Upholstery cleaning experts near Milwaukee
Trusted Upholstery Cleaners in the Greater Milwaukee Area
If you live in the Greater Milwaukee area and notice that vacuuming with an upholstery tool is no longer bringing proper results, it's time to hire a professional technician from Promax.
At ProMax Carpet Clean®, we understand that your upholstery is more than just furniture – it's an integral part of your home's comfort and aesthetics. Over time, daily use, spills, and general wear and tear can take a toll on your sofas, chairs, and sectionals. Our professional upholstery cleaning services in the Greater Milwaukee area are designed to restore and preserve the beauty and cleanliness of your furniture while contributing to a healthier indoor environment.
Need an Upholstery Cleaning Expert near Milwaukee?
Cleaning Upholstery On Your Own Will Void The Warranty!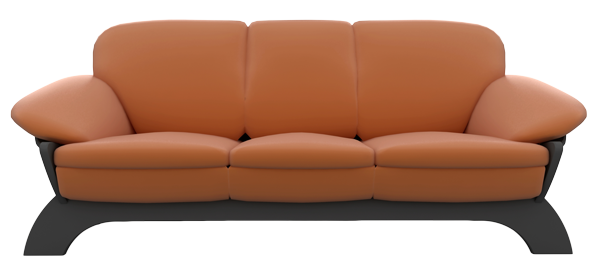 We strongly recommend carefully reviewing your warranty documentation before attempting any upholstery furniture cleaning at home.
If your warranty mandates professional upholstery cleaning, it's essential to communicate the warranty terms with our technicians before they commence their work. This proactive step ensures that we can take any necessary extra measures to uphold the warranty's validity.
Promax Upholstery Cleaning Levels
1
Jet Steam Cleaning
This service involves our standard hot water extraction technique that utilizes specialized upholstery tools and carefully selected cleaning agents.
* any furniture up to 6 linear feet
2
Jet Steam + Deep Scrub
Our technician will start the process by pre-spraying the upholstery with a specially formulated fabric solution. They will then delicately agitate the solution into the fibers using a gentle nylon brush designed for furniture, effectively loosening even the most stubborn dirt. Next, we employ a Hot Water Extraction method to thoroughly eliminate all dirt and residual cleaning agents, leaving your upholstery refreshed and clean.
* any furniture up to 6 linear feet; $5 for an additional linear ft
3
Dry Shampoo Cleaning
Our Dry Shampoo method is particularly well-suited for delicate fabrics such as cotton, wool, or multicolored furniture. One of its primary advantages is its non-invasive nature; it works instantly and is gentle on your upholstery. Additionally, thanks to its low pH level, this method significantly reduces the risk of fabric browning, preserving the integrity and appearance of your cherished upholstery.
* includes delicate Horse Hair Brushing technique
Contact Promax Carpet Clean® Today!
Need a carpet, air duct, or upholstery cleaning service near Milwaukee?
Contact us today for a free quote or to schedule your next cleaning appointment. We proudly serve the Greater Milwaukee area, including Greendale, Franklin, Greenfield, South Milwaukee, Muskego, Oak Creek, Hales Corners, New Berlin, Brookfield, Waukesha, Bayview, Cudahy, Shorewood, Mequon, Fox Point, and many more local communities.
Contact Promax
Contact us today to book your appointment or get more info about our services and products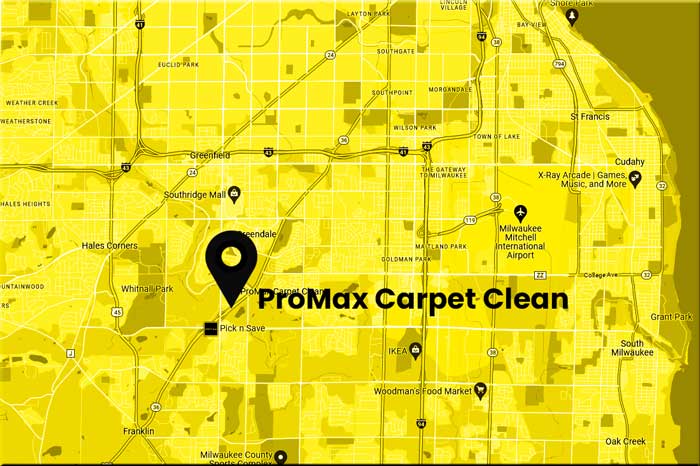 ProMax Carpet Clean®
6730 Hill Ridge Dr, Greendale, WI 53129
262-777-1362
Service Hours
Mon-Sat: 7am-7pm
Sun: closed
ProMax Carpet Clean® is just a call away, ready to bring cleanliness and freshness to your home.
Safe & Effective Upholstery Cleaning
Why Choose Promax Upholstery Cleaning Services?
When you choose Promax for your upholstery cleaning needs, you're opting for excellence in service and results. Here are some compelling reasons why our clients trust us for their upholstery cleaning requirements:
1. Expertise in Upholstery Care: Our team of highly trained technicians specializes in upholstery cleaning. We understand that different fabrics require unique care and attention, and we have the knowledge to treat your upholstery with the utmost care, whether it's silk, leather, microfiber, or any other material.
2. Comprehensive Cleaning Process: Our upholstery cleaning process is designed to address every aspect of cleaning, from dirt and allergen removal to stain treatment. We go beyond the surface to ensure a thorough clean that rejuvenates your upholstery.
3. Eco-Friendly Practices: We care about the health and safety of your family, pets, and the environment. That's why we use eco-friendly cleaning products that effectively remove contaminants while being gentle on your upholstery and the planet.
4. Stain and Spot Removal: Our skilled technicians are equipped with advanced stain removal techniques and products to tackle even the toughest stains. Whether it's a wine spill, pet accident, or coffee mishap, we have the solutions to restore your upholstery's pristine appearance.
5. Fabric Restoration: We don't just clean your upholstery; we also aim to revitalize it. Our cleaning methods are designed to refresh the fabric, ensuring it looks and feels like new. This not only enhances your furniture's appearance but also prolongs its lifespan.
6. Pet Odor Removal: If you have pets, you know that accidents can happen. Our pet odor removal service is designed to eliminate odors at their source, leaving your upholstery fresh and odor-free.
7. Customized Solutions: Every home and business is unique, and so are their upholstery cleaning needs. We tailor our services to meet your specific requirements, ensuring that you receive the precise care your upholstery deserves.
Request a professional upholstery cleaning service near Milwaukee today!
Sanitize and Deodorize
Reduce Allergens and Bacteria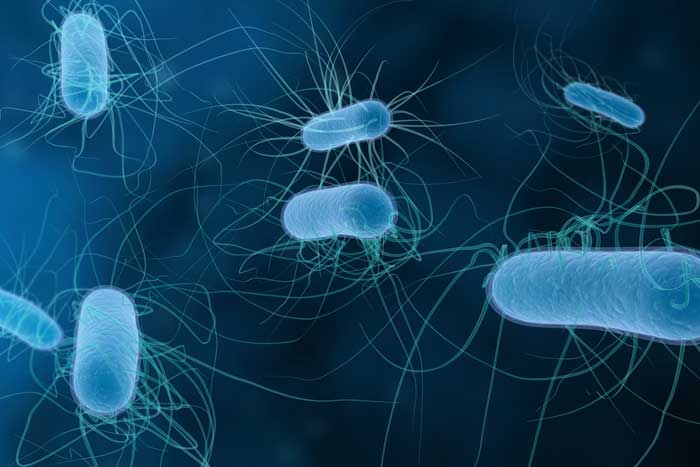 Upholstered furniture often becomes the ideal playground for your kids and pets. It's where they leave their mark with dirty hands, shoes, and paws, leaving behind a trail of dirt, grit, food particles, hair, dead skin cells, and dandruff. Unfortunately, this collection of debris can turn your furniture into a thriving habitat for bacteria and dust mites.
The good news is that our ProMax technicians are equipped to address this issue effectively. They can apply a professional-strength deodorizer and sanitizer to your upholstered furniture. This treatment is designed to not only eliminate unpleasant odors but also reduce the presence of unhealthy bacteria and allergens, thereby contributing to a healthier and more hygienic home environment for you and your loved ones.
Protect Your Upholstery Furniture
Spills are an unavoidable part of life, and over time, the upholstery fabric naturally undergoes wear and tear.
To safeguard your cherished furniture and prolong its life, inquire with our ProMax technician about our Teflon© Shield fabric protector. This protective treatment acts as a barrier against spills and stains, adding years to the lifespan of your favorite furniture pieces while ensuring they maintain their fresh, new appearance.
Our Local Service Reviews
ProMax Carpet Clean

in Milwaukee, WI is rated

5.0

stars based on

14

local customer reviews

B





Carpet & Air Duct Cleaning
Milwaukee, WI
Positive: Professionalism, Punctuality, Quality, Responsiveness, Value Great work. Had carpets cleaned, hvac system cleaned and drier vent cleaned. Would recommend saving the headache of calling anyone else.

J





Carpet Cleaning Service
Milwaukee, WI
Great service from a friendly owner operated company. Conversations with owner were great. Carpets were very dirty and neglected and looked great after cleaning.

P





Carpet Cleaning Service
Milwaukee, WI
Leszek Klimek was the awesome guy who came to clean my carpets today. I had taken the vent off the wall to clean it and unfortunately my cat crawled in the opening and was walking around in the duct work. I was panicking. Leszek commented he knew duct work and did not hesitate to help me. I had a previous access patch to the duct work and he opened it up for me and eventually the cat found her way to the opening and we got her out. I will be forever grateful for his kind assistance. Also, he did a fabulous job on the carpet. I will not hesitate to use ProMax again, for any service.

R





Air Duct System Cleaning
New Berlin, WI
They gave me much more than I ever expected. They spent four hours plus doing a thorough job for a very reasonable price. I would recommend them to anyone. And my thanks to Jim for doing a great job.

V





Air Duct System Cleaning
Pewaukee, WI
Had my air duct cleaning in my new Pewaukee home. They did an awesome job!

D





Carpet Cleaning Service
Greenfield, WI
Promax did all 3 services for me. Carpet, Upholstery, and Air Ducts. My carpets and living room furniture have new life. Awesome work and very thorough. Wish I would've done this sooner. Nice pricing and worth every penny. I'd go back to Promax in a heart beat. Thanks Les!!

B





Air Duct System Cleaning
New Berlin, WI
Thanks you for cleaning my air ducts I can finely breath better

J





Carpet Cleaning Service
Mequon, WI
Great communication and no hidden fees, straight forward quality work. Highly recommended, and I'll defiantly will be a repeat customer. Thanks Les!

S





Carpet Cleaning Service
Milwaukee, WI
Best carpet cleaning we have ever had ! Will definitely tell neighbors and friends and will be sure to call always when needed

J





Carpet Cleaning Service
Milwaukee, WI
Excellent job every time. My carpeting and furniture look brand new. Wouldn't trust my home to anyone else.

M





Carpet Cleaning Service
Milwaukee, WI
I have been friends with the owner for years. I can't say enough good things about his duct and carpet cleaning services. I am happy I have a trusted person who can properly take care of those things for me.

P





Air Duct System Cleaning
Milwaukee, WI
Air in my house is much cleaner after you guys cleaned all the air ducts and mainlines. Great work, nice customer service experience, and very reasonable pricing! Highly recommended!

J





Carpet Cleaning Service
Milwaukee, WI
I am supper happy with those guys. Great carpet cleaning service if you live in the Milwaukee area.

M





Carpet Cleaning Service
Greendale, WI
Thank you for the really awesome carpet cleaning service. You guys deliver every time!